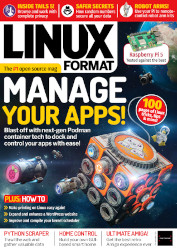 Blast off with Podman! Join the Pod and manage your apps effortlessly. We dive into the new container tech that's sweeping the open source world and replacing Docker as the faster and easiest way to have a dependency-free app life.
PLUS: build a Pi-controlled robot arm, AI for admins, code a Python web scraper, make Linux printing easy again, build the ultimate Amiga PC, tweak your kernel scheduler, we test Raspberry Pi 5 killers and loads more!
Write in now, we want to hear from you! letters@linuxformat.com Send your problems and solutions to: answers@linuxformat.com Catch all the FOSS news at our evil Facebook page or follow us on the Twitters.