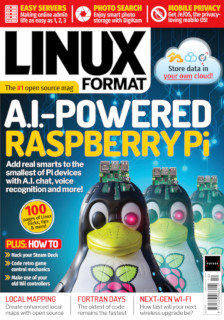 Get an AI-Powered Pi! It might not take over the world but it will help you create loads of smart projects that recognise faces, objects and even your voice! We'll help you get the software and hook up the hardware to create smarter, faster and more intelligent Pi projects.
PLUS: the best open source personal cloud services, free your phone with /e/OS, discover next-gen WiFi 7, reuse your old Wiimotes, getting open source mapping with Marble, manage photos with DigiKam, discover Fortran, easy servers with Virtualmin, get a better Steam Deck and loads more!
Write in now, we want to hear from you! letters@linuxformat.com Send your problems and solutions to: answers@linuxformat.com Catch all the FOSS news at our evil Facebook page or follow us on the Twitters.