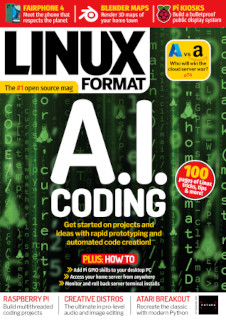 Get into AI coding! Learn to code smarter, accelerate development with rapid prototyping and automated code creation and the pitfalls to watch for! We explain the coding companions and what they're good for.
PLUS: Murena FairPhone 4, render Blender maps, build Pi kiosks, Azure Vs Amazon, add Pi GPIO to your PC, reverse proxies explained, rollback server updates, multi-thread Pi projects, media creation distros tested, code Atari breakout and more!
Write in now, we want to hear from you! letters@linuxformat.com Send your problems and solutions to: answers@linuxformat.com Catch all the FOSS news at our evil Facebook page or follow us on the Twitters.