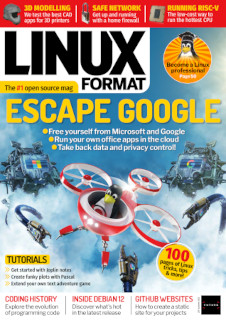 Escape the tyranny of the corporate owned cloud! Free your files from Google and Microsoft as we show you how to set up and run your own open source office – create, edit, share and save your files and documents running on your own systems using Nextcloud and Collabora Online.
PLUS: Get your Linux certifications, explore how code evolved, Debian 12 explored, create websites on Github, funk up your plots, take Joplin notes, run a RISC-V CPU, set up a hardware firewall, get the best CAD package and loads more!
Write in now, we want to hear from you! letters@linuxformat.com Send your problems and solutions to: answers@linuxformat.com Catch all the FOSS news at our evil Facebook page or follow us on the Twitters.