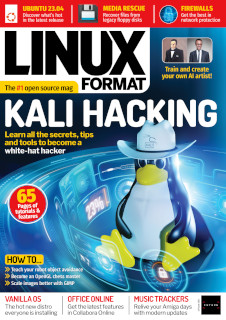 Get hacking with Kali Linux, grab the latest Linux Format and arm yourself with the tools and the hacking knowledge to defend your systems and train yourself as a white-hat hacker! Discover Kali Purple, Metasploit and the best way to run Kali Linux.
PLUS: Ubuntu 23.04, get detailed terminal system reports, enjoy quick text expansion, enhanced GIPM images, rescue retro media, relive your Amiga tracker days, we perfect the LXF robot, get a better firewall, discover Vanilla OS, run Stable Diffusion, the latest Collabora Online and more!
Write in now, we want to hear from you! letters@linuxformat.com Send your problems and solutions to: answers@linuxformat.com Catch all the FOSS news at our evil Facebook page or follow us on the Twitters.