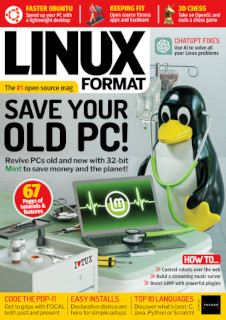 We'll keep your PCs old and new running that little bit longer with a combination of Linux Mint 21 and Linux Mint Debian Edition. With the best of 32-bit Debian and 64-bit Ubuntu, we transform laptops and desktop PCs with a modern Linux operating system that's got a green outlook.
PLUS: Fix problems with ChatGPT, the best lightweight desktops, GIMP plugins, build an audio stream server, discover NixOS, web controlled robots, get started with OpenGL, get fit with open source, classic FOCAL, the top-10 languages and loads more.
Write in now, we want to hear from you! letters@linuxformat.com Send your problems and solutions to: answers@linuxformat.com Catch all the FOSS news at our evil Facebook page or follow us on the Twitters.