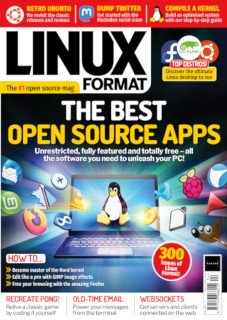 We celebrate the best in open source ever, the Linux kernel and wonder where we'd be without the free software movement. Discover our top picks for the best free software, what the oldest open source projects are and revel in our retro distro reviews!

PLUS: Recompile your kernel, switch to Mastodon, run Debian Hurd, email like it's 1983, discover the best Hotpicks, code Pong, we test the best desktop distros, text effects in GIMP, start using websockets and loads more!
Write in now, we want to hear from you! letters@linuxformat.com Send your problems and solutions to: answers@linuxformat.com Catch all the FOSS news at our evil Facebook page or follow us on the Twitters.