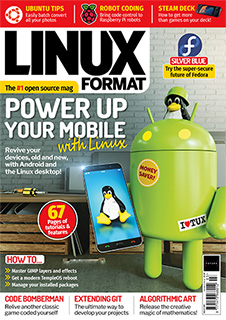 Power up your devices and revive your old phones with open source Android and even a full-fat Linux desktop! We guide you through using LineageOS – the best Android spin – to revive and protect older phones and tablets alongside full-fat Linux options.
PLUS: Fedora Silver Blue, packaging formats explained, Mint 21 reviewed, Pi Camera v3, Steam Deck desktop use, algorithmic art, enhanced GIMP layers, coding Bomberman clones, making GIT easy and loads more!
Write in now, we want to hear from you! letters@linuxformat.com Send your problems and solutions to: answers@linuxformat.com Catch all the FOSS news at our evil Facebook page or follow us on the Twitters.