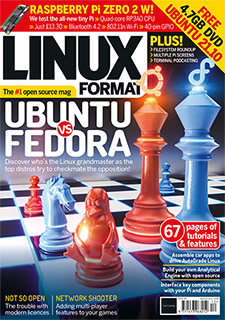 Fedora VS Ubuntu which has the strongest opening game? We pit these grandmasters head to head and find out.With Ubuntu 21.10 and Fedoras 35 released we compare both distros games to see which is playing stronger and how the other can improve.
PLUS: Faster, securer filesystems tested, the trouble with licences, build AutoGrade Linux apps, code a REST client, build a Ghost blog, run your own Babbage Analytical Engine, edit PDFs better, install Chrome OS and loads more!
Write in now, we want to hear from you! lxf.letters@futurenet.com
Send your problems and solutions to: lxf.answers@futurenet.com
Catch all the FOSS news at our evil Facebook page or follow us on the Twitters.