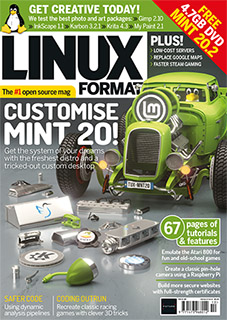 Put the personal touch on your Linux distro as we help you customise Mint 20.2 with new desktops, new settings and loads more. Get started with easy desktop hopping, making Plasma play nice with Wayland, tweaking Cinnamon to work how you like and exploring lightweight alternatives like i3.
PLUS: CopyQ super clipboard, Atari 800 emulation, using server certificates, the best paint packages, open source mapping, better Steam gaming, retro racing games, build a Pi pin-hole camera, improve your Nextcloud install and more!
Write in now, we want to hear from you! lxf.letters@futurenet.com Send your problems and solutions to: lxf.answers@futurenet.com Catch all the FOSS news at our evil Facebook page or follow us on the Twitters.