| | |
| --- | --- |
| <! -- SEARCH BY AUTHOR -- > | |
| <! -- SEARCH BY ARTICLE TYPE -- > | <! -- SEARCH BY TEXT -- > |

Ongoing! Visit our Linux User & Developer archive (work in progress).
Click here to see all available PDFs.
Note: PDFs are &copy Future Publishing and may not be redistributed without permission from
the editor
.
Subscribers: click here to get access to more PDFs and full issues!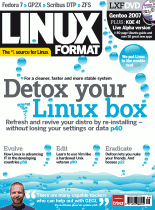 Issue 96 (September 2007) - Detox your Linux box
Refresh and revive your distro by
re-installing
- without losing your settings or data. We show you how to rid your system of clutter and back up vital settings
Just how user-friendly
are
modern distros? Find out in the
Ultimate newbie testPower to the people
: how open source is empowering developing countries
Can
Scribus
cut it in the professional DTP world? We've made a whole feature using it!
On our
4GB triple-booting DVD
: Power-user-tastic Gentoo 2007.0, a preview of KDE 4, and the innovative SymphonyOS. Plus 80 pages of Linux know-how from Apress, DEFCON dempo, KOffice and OOo updates, and much more...
Tutorials
on video editing, mastering Vim, understanding Bash, Mono network coding and apt-get tricks
Features
Coverdisc
Tutorials
Reviews
More